Giving Thanks for Every One of Them!
I was blessed to marry into an amazing family that is kind, fun, non-judgmental, loving, enjoyable, and drama is only used for good gossip!
When I was dating my boyfriend, Bob, he said if we were going to get serious there were two rules that he would not budge on and I am so glad that he did not as we have not broken them for 28 years!
#1 – The Walther Thanksgiving has been going on since 1957 and he would never miss one.
#2 – He stays home on Christmas because that is where you are supposed to be on that special day.
So once again the Walther's will invade my house armed with delicious food, big smiles, hugs and many stories to tell from the past year!
This year we will have 43 in attendance and our garage will be filled with laughter, large plates of food, and tons of LOVE!
I hope your Thanksgiving will be filled with the same on this special day of the year. Also, that you give thanks for the ones that will be missed at your table — as they have handed down a tradition that keeps your family strong and united. Remember, in the end, it will be your family that will reminisce and tells your stories when you are at the table upstairs.
My favorite picture from last year is one of the o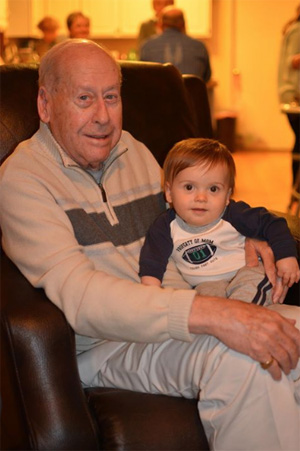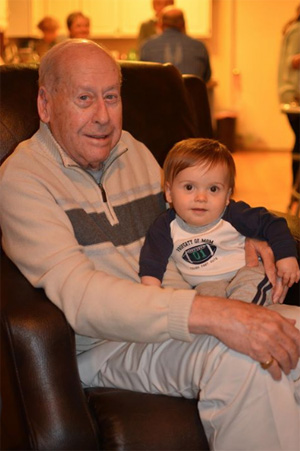 ldest and youngest Walthers sharing some quiet time. I am hopeful that Uncle Chuck shared his wisdom with Colton of how to survive in the Walther family by whispering… "Be kind, have fun and love one another and the rest will take care of itself."
May God Bless you and your family on this amazingly wonderful holiday!
P.S. Walther humor is another reason I love them so. When this picture was posted on the Walther Facebook Page, Uncle Chuck commented —
"The eldest is the one on the left.
Someone said yeah, but they're both in diapers."
Bee Aware of your Blessings –
Tina