Everyone is on Facebook and your special announcement, upcoming event, or promotion should be too!
For our most recent Facebook ad creation, we boosted a post that included a graphic and text for Campbell-York Catering. It was a great success, and it brought in more orders and brought awareness to their Catering Services.  
Campbell-York spent $50 for their boost, results are as follows: 
Paid portion: 75 engagements / 1692 reach = 4.4% 
Total paid and organic: 102 engagements / 2325 reach = 4.4%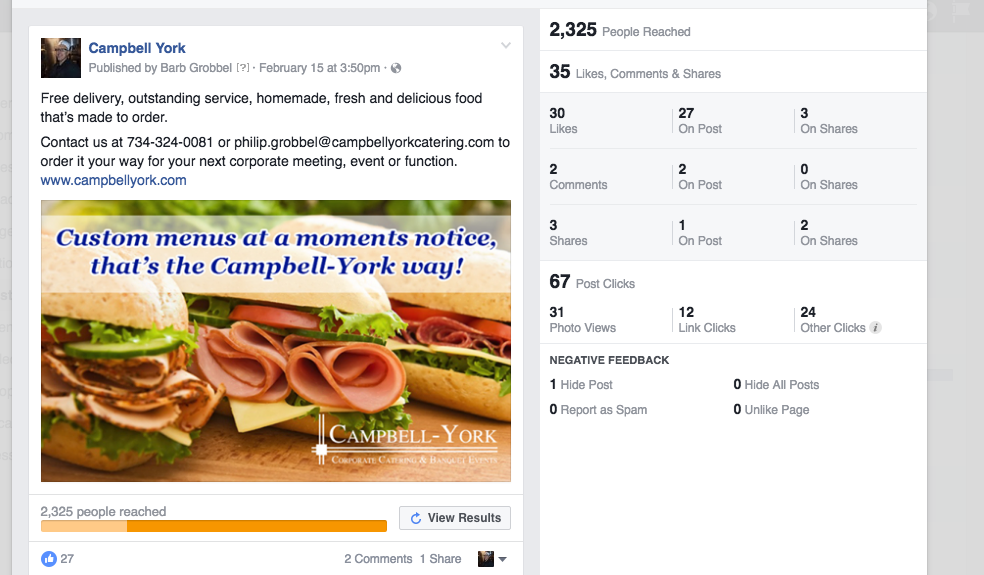 Most marketing campaigns hope for a 1-2% reaction, therefore a 4.4% reaction should be considered a success and money well spent. The ad reached 2,325 total people on Facebook — bringing in 35 likes, comments and shares, and 67 post clicks. 
When creating an ad on Facebook, there are several types of ads you can choose from. Think about what type of action you want people to take after seeing your ad. Do you want people to become aware of your business or engage with your ad? These are all things you need to think about before you take action on Facebook. 
Types of advertisements include: 
Promoting Your Page

 

Promoting Your Local Business

 

Boosting Post

 

Promoting Your Website
Creating ads directly from your Facebook Page is one of the fastest and easiest ways to reach people on Facebook who matter the most to you business – but it may be hard to determine which type of ad to choose. Click here for some items to help you from Facebook. 
What ad type do you find most successful for your business? Share with us in the comments section below!