Time Tested and True!
I am sure your family has holiday traditions that have survived the test of time and the passing of the members that started them – which I believe is the reason they are so crucial to our family holidays.
About 20 years ago our cousin got married and his mother created dessert plates for the wedding with a collage of the wedding couple.
Of course, I kept it as a reminder of an amazing gathering of our family to celebrate the addition of a new member. Now, years later, "the wedding plate" is a crucial part of our Thanksgiving dinner, much to the chagrin of our cousins –to become a Walther you must learn to laugh at yourself.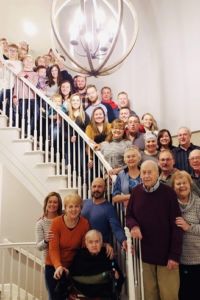 Our annual Thanksgiving gathering ranges from 35 to 50 people and includes the annual Walther picture to add to the previous years dating back to 1957. Also, the famous Walther's oldest and youngest picture to affirm our family will continue to grow and that Walther gatherings will continue.
Families are as quirky as their traditions, but that's what makes them so unique, loveable, and downright fun as only an inside joke can be – even if 50 people are in on it.
This holiday season be sure to embrace the traditions, the stories, memories, and the laughter, as these will be the treasures that we all will hold dear when "the things" become irrelevant.
May God bless you all and I pray your holidays will be filled with peace and hope that our children will carry on the traditions!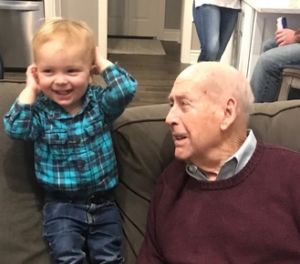 Bee Joyous —
Tina