ANN ARBOR, Mich. – Oct. 30, 2018 – PRLog — Tina Walther Completes the Goldman Sachs 10,000 Small Business Detroit Program
(Ann Arbor, MI, October 30, 2018) Tina Walther, owner of Rapport Innovative Marketing, was among the seventh cohort of 30 graduates who completed the Goldman Sachs 10,000 Small Businesses Detroit program this year.
Rapport Innovative Marketing offers a combination of cutting edge products, experience, honest insight, and innovative team members, to provide professional graphic design and marketing solutions that will save time, are cost effective, and contribute to the client's sales growth, while enhancing their brand and creating rapport.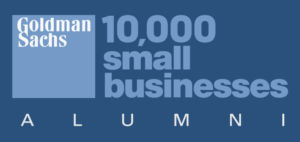 Owner of Rapport Innovative Marketing, Tina Walther states: "I am proud to say I am a graduate of the Goldman Sachs' 10K Small Businesses program and am truly grateful that I was accepted into the program. The skills and insights I received during my time in the program have shed a whole new light on how to run my business – in many aspects. The knowledge will continue to fuel my efforts and my company's growth for many years to come!"
The business leaders spent nearly 3-4 months – roughly 100 class hours – at Wayne State University studying a business and management curriculum designed by Babson College and delivered by Macomb Community College and Oakland Community College faculty. The curriculum covered accounting, human resources, negotiation and marketing, among other topics. The program also included one-on-one business advising, accounting workshops and advice from Goldman Sachs professionals.
Applications for 10,000 Small Businesses are accepted on a rolling basis at Wayne State University. The program is open to business owners across the Michigan region. To learn more about the program, please visit www.10ksbdetroit.com, or apply at www.10ksbapply.com.
For more information on Rapport Innovative Marketing and their services visit www.rapport.tw or call (734) 395-8212.
See the original press release here.