Over the past few months, Rapport Innovative Marketing's clients have realized the benefits of adding pop-ups on their websites. A website pop-up is a form of online advertising that suddenly appears when you land on a website, usually a small window. Here's an example: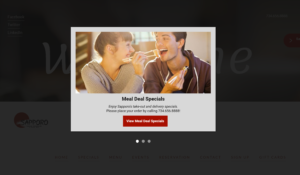 Now the next question – what's so great about a pop up?
Well, this advertising technique happens to provide several benefits. Let's get into them…
1 – Grabs People's Attention
Since the pop-up automatically shows up when you land on a website, they are great at grabbing the attention of users. Typically, in order for a pop-up to disappear, you have to exit out or click off of it. In order to make this decision, the user has to decide if they are interested in what the pop-up is offering. What does this mean? They will more than likely take a few seconds to read the pop-up. There's the attention grab!
2 – Can Help Improve Conversion Rate
Most pop-ups will advertise a particular product, service or even discount. Take the image above for example where our client, Sapporo, is advertising their Meal Deal Specials. Since this offer is readily available when someone enters the site, the chances of getting more Meal Deal Specials conversions goes up.
3 – Can be Completely Customized
The nice thing about pop-up ads is that they can be customized, just like you would customize an ad on your site's web pages. This allows you to offer anything that fits the needs of your business. The platform we use even allows for a carousel of pop-ups. The one above has three offers within the pop-up carousel that scrolls through after a few seconds. That's three offers in ONE ad! Here's some ideas on what a pop-up can be used to advertise:

Social media pages
Newsletter/email sign up

Discount/special offer

Ask for feedback

Answer FAQs

Holiday hours

New products
4 – Helps in Showcasing Your Brand
Since pop-ups are customizable and they are the first thing a user will see, they are a great place to put your best content and to really showcase your brand — what your business is all about. Really hammer home your brand by showing off your best products and selling points.
Ready to add some pop ups to your advertising? To further elaborate on these benefits and show an example of how it works, we've created a video taking you through the pop-up carousel on Sapporo's website. Learn more by watching the video below and let us know what you think in the comments!